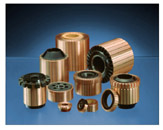 INECA COMMUTATORS has been one of the leading manufacturers of commutators since 1948. We produce high quality commutators for different applications from 4mm to 165mm outer diameter, including automotive, portable electrical machinery, electrical home appliances, aerospace, and armaments industry.
MANUFACTURING EXCELENCE
It is our policy to exceed customer expectations on all quality parameters. We design and manufacture commutators with bar to bar construction. In order to maintain the highest quality standards, we use some of the most advanced manufacturing facilities and testing equipments. Each component is monitored at every stage of the manufacturing process to ensure that quality standards are maintained and that only the finest commutators come off the production line.
QUALITY MANAGEMENT
Our manufacturing policy is dedicated to total quality management.
While quality control is an expectation of all customers, we exceed the minium requirements throught 100% product testing. We achieve minimum product defects by testing all raw materials and products at every stage of production.
EQUIPMENT
Advanced thecnology and modern equipment have been adapted by our internal experts, in close consultation with leading manufacturers, to create an efficient manufacturing process.

Our commutators are used in various applications around the world. Our success and hight quality standards, which distinguish our product from others, is the result of over 50 years experience in the commutator manufacturing industry. We have a dynamic highly skilled workforce and a modern state-of-the-art-factory. Our production equipment includes highly specialized automatic machinery, including the latest technology inspection and test equipment.

If you have not heard our name or tried our products before, you are invited to take a first step towards mutually beneficial co-operation between our two companies.

Whatever your current commutator requirement might be, we are here to assist you.

We look forward to hearing from you soon.